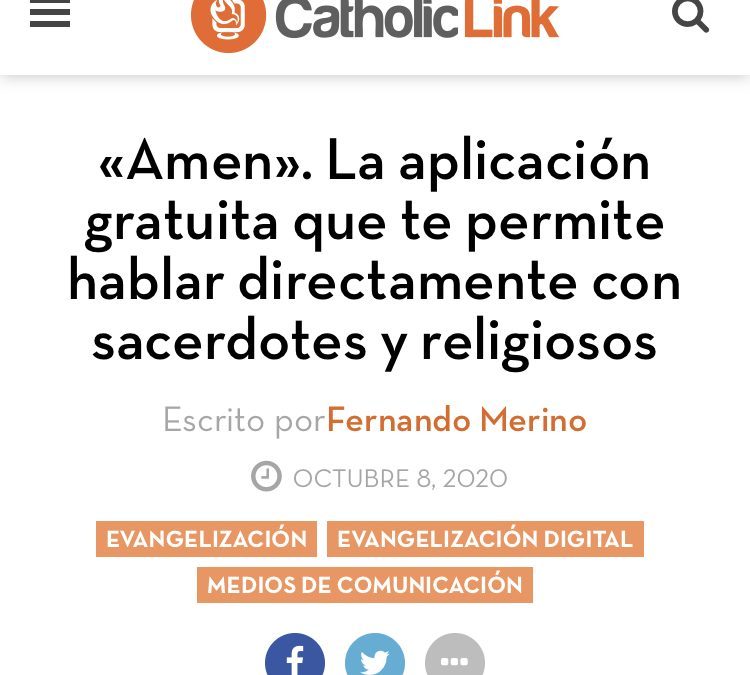 Most of us are isolated. And one of the things we miss the most is talking with a priest or a religious brother or sister. Their advices, lights, and reflections were (and are) very important to our journey of faith.
So I want to tell you about an application called "Amen". I discovered it a few days ago and it seems super relevant to the needs of accompaniment that Catholics are experiencing in the world.
This brilliant initiative was created by Ciro Duarte, who wondered how to use the new communication technologies at the service of the Gospel.
This is how he developed what is now "Amen", an app for pastoral accompaniment that already has the complicity of more than 800 religious from all over the world.
Why do I like "Amen" so much?
What I love about the application is that it allows you to have that intimate dialogue with a religious without leaving home. It is super useful especially in these times of pandemic.
The interesting thing is that not just any religious will answer me, but thanks to a geolocation algorithm, the one that is closest to my location will answer me.
I like to think of those who cannot easily access accompaniment in normal times, such as people with severe disabilities, believers in countries where the faith is persecuted, or migrants with different languages.
Don't you think that this app is also good news for them?
"Amen" is free!
And as part of its complementary possibilities, it shows you the Gospel of the day, saint of the day, hundreds of prayers, positive messages and reflection that come directly from the hearts of the priests, comments on the readings and a church search module.
In this digital time, Pope Francis asks us for a lot of creativity to evangelize in the new digital continent. May this initiative inspire you to continue creating new tools and projects to fill our planet with good news.